Merry Christmas, everyone. I'm omitting the exclamation point, because there have been far too many of them, lately, and I'm in the mood for something more … subdued.
My list-making and task-charting worked, and I didn't have to really think about what to do next, since it was all written down. That left me more energy and resources to focus on the tasks at hand and really give it all I had. I found some additional presents that I was so happy with — some of them I only discovered after a couple of passes through a certain section of the store. I had to keep doubling back, because I kept getting distracted by everything around me. But after I got used to the surroundings and got my bearings, I found some great stuff.
I went back to one of the stores I'd visited with my partner, a few days ago, to see if there was anything additional I could find. Sure enough, there was. I was more successful this time than last, because I was working alone, I didn't have to keep her situation in mind, and I was more familiar with the store.
So many people were out yesterday… for a Sunday, it's unusual. It was pretty disorienting. But then, it was Christmas Eve, so…
All in all, I had a pretty positive experience. I still got worn out after only a few hours, though. And it took me longer to do some things that I would have liked. I also would have liked to not see some of the holiday decorations at one of the stores I visited.  They were pretty scary, actually. For some reason, a buyer thought it would be a good idea to cover the torso of a headless female mannequin with red or green glitter, and attach it to the top of a small Christmas tree. It was a little nightmarish.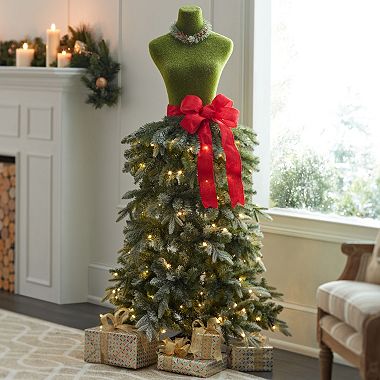 The scary human-Christmas-tree-cyborg aside, yesterday was a good day for learning… about how even if I'm left to my own devices, even if I've got the day mapped out, even if I'm crystal-clear on what needs to happen, I still have my limits at this time of year. And no matter what I do to mitigate the effects of uncertainty and More Things To Do, I'm still going to be really taxed by the environment.
No matter what I do, no matter how much sleep I get, how well I eat, how well I take care of myself in general, I'm still going to struggle with external circumstances and the super-duper, pumped-up atmosphere of the holiday season.
And yet… I really do love this time of year. Driving around on the back roads, the skies were clear and the world was suffused in ice. We had a lot of freezing rain on Saturday, which glazed everything in 1/4 inch of ice. And on Sunday, as the weather cleared and the sun shone, and all the muted colors of the slumbering trees and dead grasses and frost and ice and snow stood out in sharp contrast against the blue sky with its passing whispy clouds, I couldn't help but just love every minute of it.
I really do enjoy this time of year. I love the long nights, the quiet that comes after the storms, the weight of winter clothes, and the slower pace to everything. I thrive during the winter, when I feel like I can finally catch up with myself. And I literally feel at my physical best when I'm outside shoveling snow in sub-freezing temperatures. My body feels the most comfortable when it's below 20 Fahrenheit  (-30 Celsius). My inner heater seems to kick in only at that temperature. And when it's below zero (Fahrenheit), I really feel great. I don't even feel the cold that intensely, when it's that cold. I feel it more, when it's around freezing. Then, it feels like it's getting in my bones and shutting me down.
So, this coming week should be wonderful — it's going to be in single digits for several days, and below zero at night.
Yeah, I love this time of year. But the whole Christmas season messes things up. Too many lights. Too much music. Too much shopping. Too many people. And interactions with strangers. Noise. Lots of noise, interspersed with sounds that I'm supposed to pay attention to. Movement. Unpredictable people not paying attention when they're driving. Everybody with emotional issues. Money issues. Let loose in the world and insisting on talking to me. Ugh. I'm so glad it's nearly over. I really just want to enjoy myself. Have nice meals. Get grounded. Chill out.
All this means I've got to make some changes. My partner and I agree that next year's going to be structured very differently than this one (and years past). We're going to do more advance preparation, buying presents ahead of time, getting better prepared, mailing things out weeks before we need to. Just being more mindful, early on, so we can really enjoy ourselves when the season "hits".
Doing a lot of advance prep always seemed … wrong … to me in the past.  I didn't want to think about Christmas, till it was right "on top of us". I couldn't get into the spirit ahead of time. But the older I get, and the more I appreciate the season, the more sense it makes. I can get the obligations out of the way up front. Put in the time and energy up front, so I can relax at a later point.
Doing it all at once may be in the spirit of the season, but that's just not working for me anymore.
So, it's time for a little change — a big change, in fact. And because both my partner and I are of like mind about this and can support each other, this is one change for the better that's likely to "stick".
It's all for the sake of getting to really enjoy this time of year. That's important.
And with that, I shall get into my day and enjoy this Christmas for what it is — another stage in the turning of the wheel that takes us ever on.
Merry Christmas, everyone.  I hope you have a good one.
---
Did you enjoy this? Please consider becoming a patron at Patreon.